Since 1999
The symbol of hope and new beginnings for the Northland.
New Year's Eve in Flagstaff is marked by thousands of revelers pouring into the downtown for the mountain town's traditional Pinecone Drop. The super-sized, metal ponderosa pinecone is to Flagstaff what the glitzy, giant ball is to New York City. The tradition got its start at Flagstaff's historic Weatherford Hotel. 
Hotel owners say the 70-pound lighted pinecone with some 200+ metal petals has greatly added to Flagstaff's holiday festivities. "It's truly a magical time. When people see the pinecone it makes them smile and helps to create that beautiful atmosphere of community," said Weatherford Hotel owner, Sam Green. 
As has been the tradition since the tradition began, there will be two countdowns and lowerings on Dec. 31 — one at 10 p.m. to coincide with the New York Times Square celebration and another to mark Arizona's midnight. 
The pinecone Drop was first introduced by the Weatherford Hotel in December 1999 to celebrate the hotel's 100-year anniversary. 
Twenty-three years ago, the Great Pinecone Drop became Flagstaff's New Year's Eve tradition in 1999, when the Weatherford Hotel rang in the new millennium and honored the Hotel's 100-year anniversary. Since then, thousands have gathered in the streets for the countdown that rings in the New Year. We lower the Pinecone followed by an exciting fireworks display.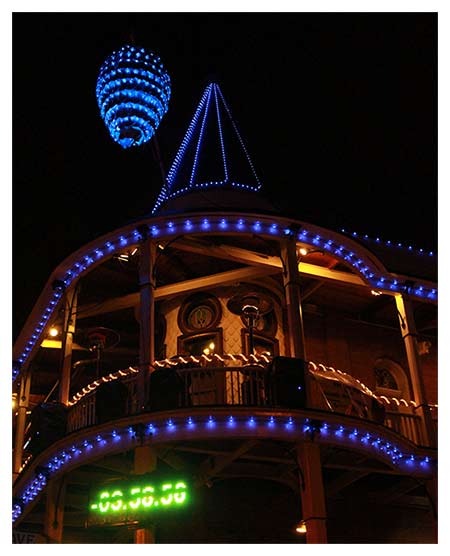 The Origin Story of Flagstaff's Great Pinecone Drop
A Celebrated Pinecone
By Scott Craven
People usher in the new year with horns, champagne and noisemakers. All well and good, but if you really want to do it right, there's nothing like lowering a 70-pound, 6-foot-tall, well-lit metallic pinecone. 
You might think such a New Year's Eve breakthrough is recent, given advances in festive technology. But Flagstaff's annual Pinecone Drop goes back to 1999, a sand-weighted plastic trash can and lots of hot glue. 
The pinecone started as a trash can? Oh yes!