Since 1999
New Year's Eve Great Pine Cone Drop 2023!
The New Year's Eve Great Pinecone Drop Event is the most premier event of the year here at the Weatherford Hotel! What started as a tradition on New Year's Eve of 1999 to ring in 2000 and celebrate the building running as a hotel for 100 years, has turned into a cherished memory for many visitors over the years. We are so excited to welcome you all back to ring in 2023 with us here at the Weatherford Hotel in our beautiful mountain town in Flagstaff, Arizona. Please see below for the many ways you can be involved in this event this December 31, 2022!
The most premier way to take place in this event is by being a guest at our hotel for New Year's Eve! If you are lucky enough to stay in one of our 17 beautifully historic rooms, this will be a night you won't forget! Reservations for December 31, 2022 can be made by using this link. All guests must be 21+ years old. Unfortunately, we do NOT allow kids on this night. ***You will NOT be able to reserve these rooms using our regular reservation link. You must use the following link. https://resnexus.com/resnexus/reservations/group/F92D1DF1-9A30-49D8-9373-5B41F16B7FCD?GID=64760df8-de53-4002-a309-5e560c5b0d95 Hotel rooms include 2 VIP Golden Tickets to the event in Zane Grey! Please visit this link to learn more about the VIP event and what it includes! https://weatherfordhotel.com/events/2023-vip-golden-ticket-new-years-eve-in-zane-grey-21-event/
Ring in the New Year on our Zane Grey Ballroom, Bar, and Balcony as a VIP Golden Ticket Holder! This is THE premier viewing of the event as we drop the pinecone right from our balcony! This space is located on the 3rd floor of our hotel. Please note, we do NOT have an elevator, and stairs are the only way to access the space. 21+ only event. Please view the following link for more details and to reserve a ticket! https://weatherfordhotel.com/events/2023-vip-golden-ticket-new-years-eve-in-zane-grey-21-event/
Join us in Charly's restaurant or bar area for a wonderful dining experience! Reservations must be made ahead of time. This is a great way to involve the entire family if you are looking to celebrate the New Year with children! Tickets can be purchased through this link. https://weatherfordhotel.com/events/nye-dinner-reservations-2-943/
As the hub for live music, The Gopher Hole will be featuring Jimmie & The Entertainers for a warm place to celebrate this big event with us! There will be a cover charge at the door. We do NOT take prior reservations for this event. Live music starting at 9:30pm. The Gopher Hole will open at 6pm.https://weatherfordhotel.com/events/jimmie-the-entertainers-nye/
Another great option for all is to join us on the streets and marvel at the excitement the town of Flagstaff brings on this wintery night! Show up, bring some family and/or friends, and enjoy New Year's Eve Flagstaff style! The Pinecone will drop at noon, 10PM, and midnight. The noon drop is great for younger kids and there will be an event leading up to it in heritage square put on by the Downtown Business Alliance to celebrate "Noon Year's Eve." https://downtownflagstaff.org/do/noon-years-eve-3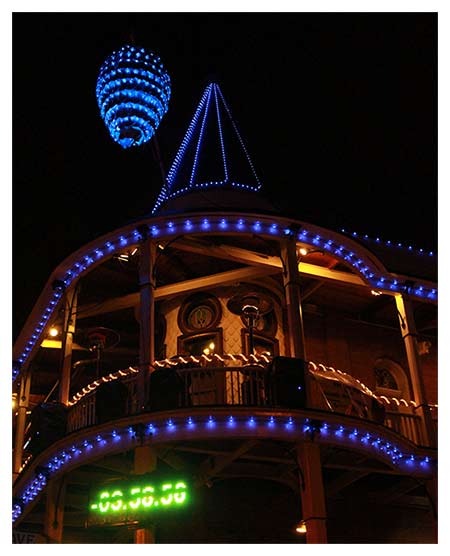 The Origin Story of Flagstaff's Great Pinecone Drop
A Celebrated Pinecone
By Scott Craven
People usher in the new year with horns, champagne and noisemakers. All well and good, but if you really want to do it right, there's nothing like lowering a 70-pound, 6-foot-tall, well-lit metallic pinecone. 
You might think such a New Year's Eve breakthrough is recent, given advances in festive technology. But Flagstaff's annual Pinecone Drop goes back to 1999, a sand-weighted plastic trash can and lots of hot glue. 
The pinecone started as a trash can? Oh yes!