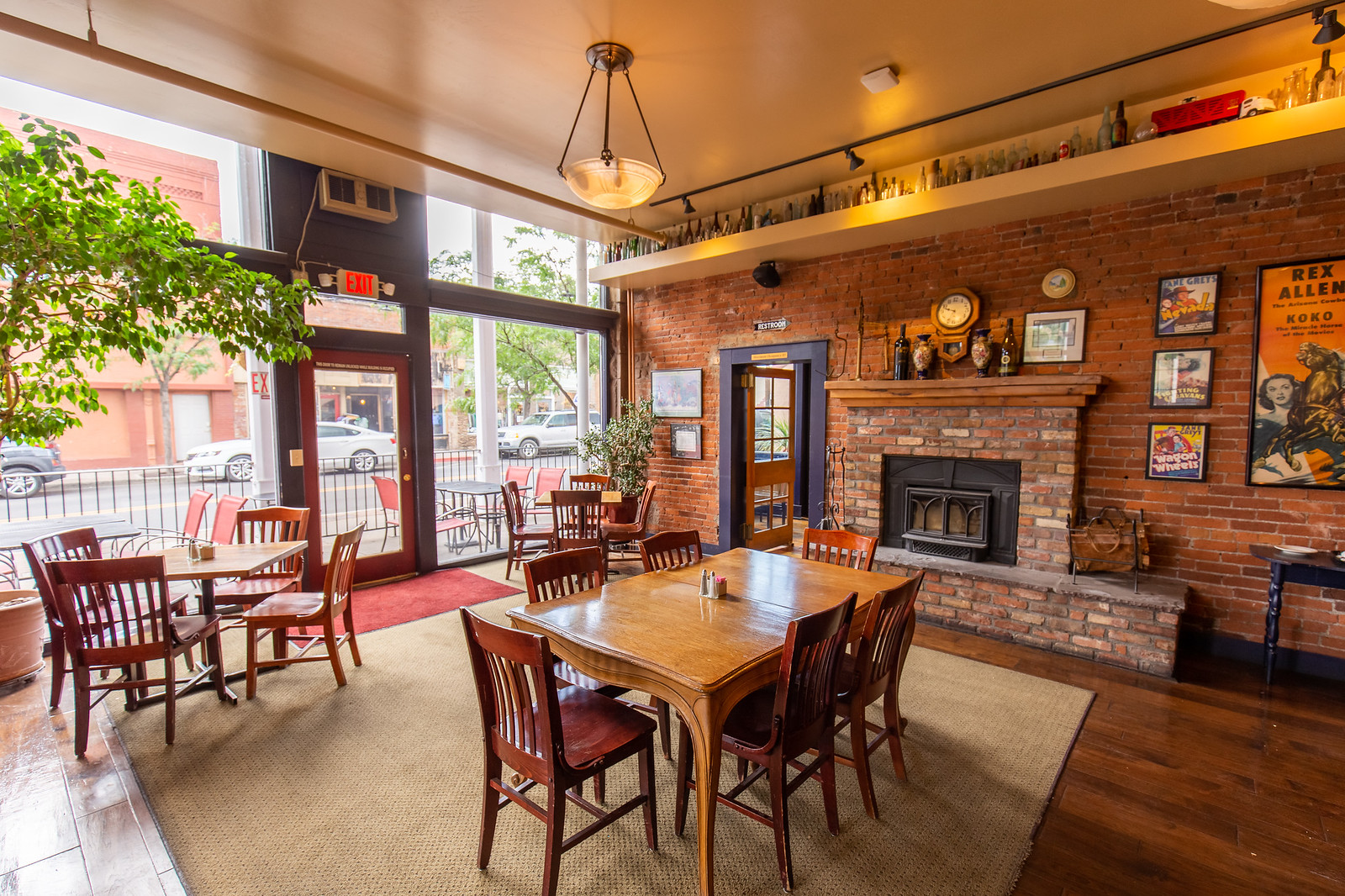 NYE Dinner Reservations ($47+ tax and gratuity)
Enjoy dinner at Charly's in the Weatherford Hotel for a night to remember this New Year's Eve! Along with dinner, you will receive access to Charly's Main Bar before and/or after your dinner reservation as well as the Gopher Hole with entertainment from Jimmie and the Entertainers starting at 9:30pm. ***Based on capacity limitations.***
The dinner consists of a 4 course meal (appetizer, soup or salad, entrée and sides, and dessert). Drinks will be offered and available for purchase. The cost per dinner is $47 + tax. Gratuity is NOT included. You will select your entrée when you register so we can make sure to accommodate correctly. You will order your appetizer, soup or salad, dessert, and drinks during the meal. Please let us know of any dietary concerns when you are registering. We will do our best to accommodate and will be in touch if we need more information.
Kids are welcome in our restaurant, but please keep in mind that there is NOT a special kids menu for this premier event. They are welcome to order off the specialty New Year's Menu, and the price will be $47 + tax.
To hold your reservation, please select the number of people in your party and make a reservation for that number of people. If you are wishing to sit with another couple, you must all register under one reservation. We can NOT accommodate seating requests the night of the event. All requests must be made during registration.
Keep in mind, your reservation is for 1 1/2 hours. This allows for a nice comfortable dinner and time to enjoy the New Year with family and friends! You will be asked to leave your table when it expires, so we can provide a great experience for all our guests. New Year's Eve is extremely busy downtown, so please plan ahead so you arrive on time for dinner. For more information on street closures for the event and parking/bussing availability, please call park Flag at (928) 213-2960.
If you arrive late to your reservation, we have the right to turn over your table. We do not wish to do this with any party, but please keep in mind we will uphold this rule in order to offer the premier dining experience we strive to offer all of you. Arrive early, check in with our host, and check out the Main Bar and/or Gopher Hole until it is time for your reservation. If you are late and/or miss your reservation, you will NOT be refunded.
All sales are final, and we are not able to refund.
If you have any questions, please contact our events coordinator at 928-779-1919 ext. 430 or eventscoordinator@weatherfordhotel.com.
The Menu is as follows:
APPETIZERS
(
Choice of one appetizer)
Crab Cakes

 

w/ remoulade



Roasted Cherry Tomato Bruschetta w/ goat cheese and balsamic
SOUP OR SALAD
(
Choice of one)
Baby Shrimp Chowder

 





House Salad

 

w/ cucumbers, heirloom tomato salad, 

croutons, and parmesan cheese

 
ENTREES
(
Choice of one entrée)
Spinach & Artichoke 

Stuffed Chicken

 




(Chicken breast 

stuffed with spinach and artichoke

 served with 

broccolini, roasted

 fingerling potatoes

, 

and 

drizzled with alfredo sauce

)
Pan Seared Halibut w/ Lemon Dill Sauce 

 
(Halibut

 t

opped with lemon dill sauce and served with

 

broccolini and

 s

affron rice

)
Roasted Prime Rib

 
(

Served with 

broccolini

, 

roasted fingerling

 potatoes

, and topped with 

au

 jus

)
P

appardelle Pasta

 (Veg

etarian

 Entrée)


(

Pappardelle pasta topped

 

with mushrooms, spinach, garlic, tomatoes, and parmesan cheese, served with garlic bread

)
DESSERTS (Choice of one dessert) 
Chocolate Lava Cake





Red 

Velvet

 Cheesecake

 
Sold out!