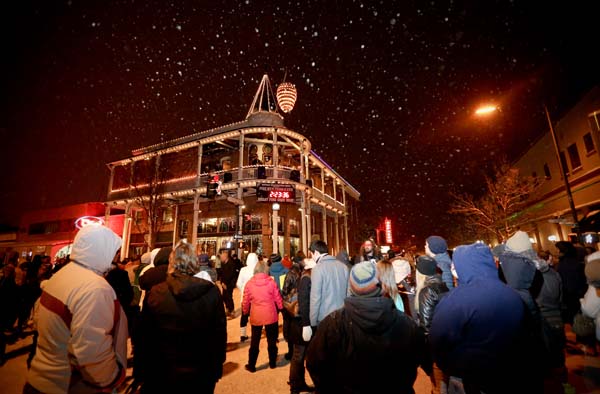 2023 VIP Golden Ticket New Year's Eve in Zane Grey! (21+ Event)
Join us for Flagstaff's Premier New Year's Eve event by ringing in 2023 in the Zane Grey Bar, Ballroom, and Balcony at the Weatherford Hotel.
A Golden Ticket gets you access to an exclusive event in Zane Grey from 7pm-1am on Saturday, December 31, 2022. This event includes hors d' oeuvres, prime rib sliders with mini rolls, and mini desserts. You will receive a complimentary champagne toast at midnight and can keep your champagne flute as a commemorative from the event! Join us for the best viewing of the Pinecone Drop! Additional drinks will be available for purchase. Along with a private event in Zane Grey, you also have access to Charly's bar on main level and the Gopher Hole bar which will feature Jimmy and The Entertainers performing that night! Please note, access to these other two venues is contingent on capacity.
The pine cone drops at 10 PM and again at Midnight! (There will be a drop earlier in the day at Noon to celebrate "Noon Year's Eve" for young children and families!)
Tickets are $125 plus tax. Please note, this is a 21+ event ONLY. Also, the Zane Grey Ballroom, Bar, and Balcony is located on the 3rd floor of the Weatherford Hotel and we do NOT have an elevator. Please keep this in mind when purchasing a ticket. All ticket sales are final, and we cannot refund. Please register through this event page, and call us if you have any questions (928-779-1919).
This is an event you don't want to miss!
Sold out!